FACHPACK 2021
Quality best packed
Solution provider with industry focus
Read more
A strong partner for small and medium-sized enterprises
During this year's FACHPACK, the WERIT Group will be presenting itself exclusively digitally in its core competence as a partner to medium-sized companies with a focus on solutions for the food industry, logistics and customer-specific solutions.
The transport of a wide variety of goods places different demands on suitable packaging. We know the special features of the industries and are aware of the extensive safety guidelines depending on the filling medium.
Reusable transport packaging, hygiene pallets or IBCs are ideal industrial packaging and contribute to smooth logistical processes within a wide range of industries. Among other things, these practical helpers allow small packages to be transported to their destination quickly, easily and without damage, and strong plastic pallets make it easy to transport large loads. Even with intensive use and high loads, the HDPE load carriers remain dimensionally stable and splinter-free and offer a high degree of safety for these logistical processes.
Perfectionists for the food industry
In the food industry, hygiene and fast cleaning are particularly important. The GS1-certified EURO H1 is convincing not only because of this, but also because of its consistently high quality and its seamless exchangeability. In combination with standardised containers, such as the Euronorm stacking containers, an ideal symbiosis is created. Additionally, WERIT Euronorm stacking boxes are available in numerous sizes.
Within the sizes, further variants can be offered through combinations of base, side and griff options. The various lid options such as slip-on, external or hinged lids complete the overall range. These selection options make WERIT Euronorm stacking boxes a versatile and universal plastic container that can be adapted to many requirements.
If, in addition to the above-mentioned attributes, containers also need to be particularly easy to handle, the tried-and-tested stacking boxes with U-edge in three basic sizes and different heights are ideal for use. They can be stacked on top of each other and transported on pallets without any problems. This optimises your transport costs many times over. When the containers are empty, they can be nested inside each other for return transport and save 65% space, time and costs. They are ideal for both manual handling and automatic conveyor systems. In addition, the stackable boxes are resistant to acids and alkalis, as well as the cold and heat.
Patented and sterile bulk packaging
NUTRiline aseptic IBC for food and sensitive liquids
In the IBC sector, the NUTRiline aseptic has recently been impressing the food processing industry. With the NUTRiline aseptic IBCs, the advantages of the robust WERIT IBC tubular steel frame on a high-quality plastic pallet are combined with the innovative, aseptic flexbag, resulting in a functional aseptic packaging solution.
At the top of the Flexbag is the Elpo connection for all common filling systems in the food industry. Elpo connection as well as the high-performance plastic valve with DN 50 milk pipe thread are steamable up to 125°C.
The Air Assist connection, an air connection for inflating a separate, integrated air cushion, enables almost residue-free and sterile emptying of the highly viscous liquids. The NUTRiline aseptic has already proven itself many times over and is absolutely "ready-to-fill" and "hands-free". An ideal prerequisite for the transport and processing of fruit and vegetable concentrates, fruit mash and pastes, highly viscous foods such as liquid egg and dairy products as well as fragrances or flavours. The freshness of the products is maintained even with partial withdrawals if the valve is cleaned appropriately.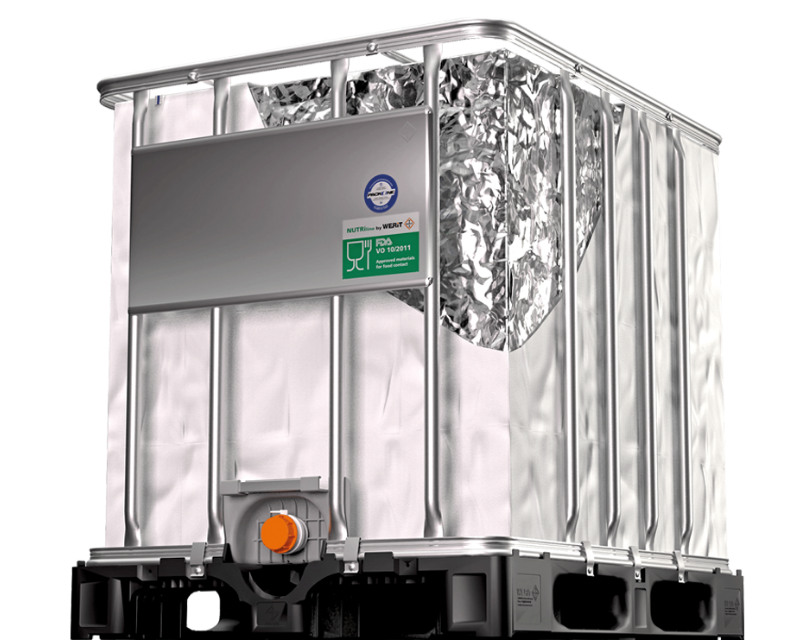 Customised solutions
WERIT IBC - Liquids safely packed
The high degree of customisation of WERIT industrial packaging enables optimal adaptation to customer-specific needs for the food, chemical and logistics industries. For example, WERIT customers can choose between 300, 600, 800 and 1000 litre IBCs on different types of pallets, with and without valves and different lid sizes.
WERIT launched the smallest IBC, the COMPACTline, on the market in summer 2017. This compact IBC with a capacity of 300 litres has been continuously developed since then and now stands on a robust specially developed plastic pallet. It is UN certified, approved for food and is gaining more and more market share. Working together with our customers and optimising our products is our top priority. Even small things, such as clearly visible labelling, can facilitate and improve processes.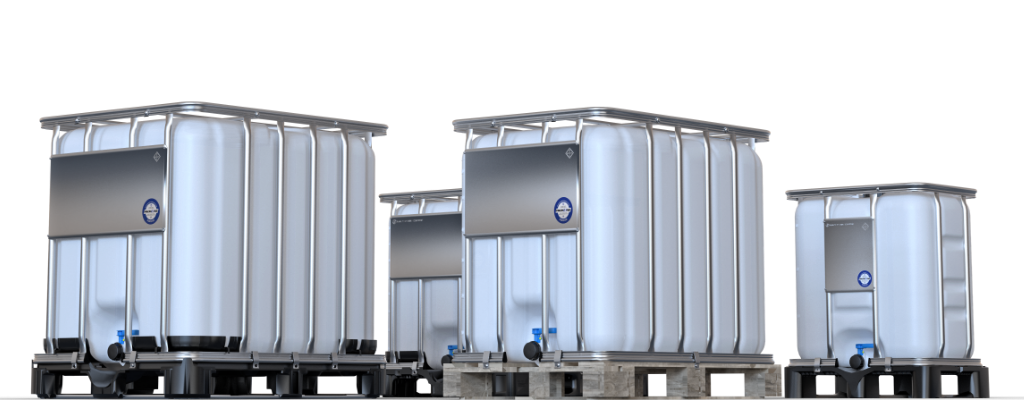 Sector focus logistics service providers
Especially in trade and in the area of pooling and logistics services, the topic of sustainability is very important from an economic and ecological point of view. For this market requirement, WERIT offers the IKP pallets in Euro and industrial sizes in addition to the hygiene pallets. This series stands for maximum economy, efficiency and sustainability. IKP plastic pallets in euro and industrial sizes have a low tare weight and offer the option of additional equipment modules.
The demand for WERIT stack and nest containers has increased enormously due to intensified online trade and the delivery of goods to the customer's home, because they can be stacked when filled and are very stable thanks to their robust construction. When empty, they are simply nested inside each other, thus saving 65% in volume. Pallets and containers are therefore the optimal partner for demanding logistics processes.

The free IBC return system
via the PACKONE ticket service
Speaking of logistic processes - the IBC collection system via the PACKONE Ticket enables all used and emptied IBCs to be taken back free of charge, regardless of their design and manufacturer. After reconditioning, cleaning or replacing various components, the IBC is returned to the economic cycle. WERIT offers two loop systems for this, in which either the same packaging is returned after cleaning and rebottling (closed loop) or new WERIT IBCs are delivered at reduced prices (open loop).
We would be pleased to provide you with non-binding advice on your solution from WERIT