Industrial Packaging
IBC Container
WERIT IBC containers are always the first choice
WERIT Intermediate Bulk Containers (IBC containers) are the ideal solution to safely and reliably transport liquid media, particularly those that are classified as hazardous goods. Customers are able to choose from different product lines depending on their requirements. WERIT has developed various equipment lines for, and amongst, the food, car, beverage, chemical, pharmaceutical and cosmetics industry as well as for car suppliers and logistics sector in order to satisfy all demands of the respective fields of application.
WERIT IBCs are available in 300, 600, 800 and 1000 litre sizes. The range of products also offers various models for a diverse area of applications and differing fill requirements.
The global market demands the responsible use of raw materials and resources. As a result, WERIT is constantly working on innovations and intelligent solutions for packaging systems, including retrieval and recycling activities. The IBC module system allows for both easy cleaning as well as cost-effective reconditioning through replacement of individual components. This allows for an ideal soultion for a cost-effective and resource-conserving multi-way usage.
Our product overview
Filter according to your requirements.
The IBC accessories will be displayed to match each product or IBC line. For special requests, we would be please to provide you with a personal consultation.
Properties of the filling media:
Product catalogue
Download catalogues, brochures and other printable material directly as PDF. Under Service Downloads, the PDF files are sorted for you according to the subject.
IBC – Liquids packaged safely
Being a specialist for Intermediate Bulk Containers, briefly IBCs, WERIT offers storage and transport solutions for different industries. With different production lines, each in four sizes, we are specialised particularly in the foodstuff industry. Users and ultimately, their end customers place respectively high purity and quality requirements on the IBCs. Food product IBCs must satisfy the specifications of the external official bodies such as FDA, BRC etc. as well as manufacturing processes in accordance with HACCP or GMP where the latter is orientated on the Directive 203/94/EC for the manufacturing of pharmaceutical products. Moreover, there are further requirements that the IBCs have to fulfil. The transport of food products and their auxiliary materials such as aromas, colourants, etc. are gaining continuously in importance. For the safe storage, trouble-free transport as well as hygienic filling and emptying, WERIT has developed the NUTRiline series. Manufactured from highly purified (HD)PE plastic, these containers are particularly durable, stable and fulfil the specifications of FDA, GMP and HACCP. Thanks to the innovative manufacturing procedures of a clean room production, potential contamination is avoided right from the beginning.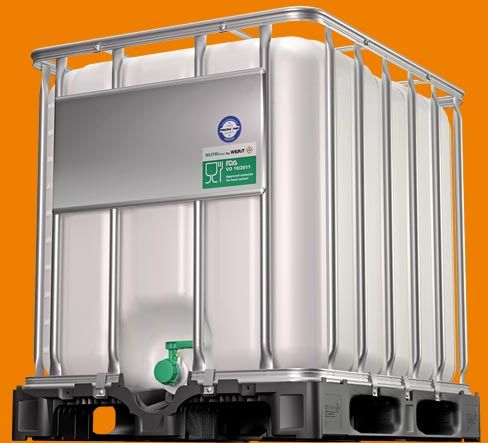 Will fit, guaranteed
Our standard solutions are used in many businesses. However, in some companies, certain requirements must be fulfilled or special building features considered. In such cases, we are happy to manufacture to size for you. Perfectly matched to the conditions on-site. Talk to our customer services who will be pleased to consult you.
Safety for hazardous goods
Depending on the properties and safety requirements, hazardous goods must be packaged in different ways. Drums, canisters and IBCs must comply with the internationally established safety stipulations and be subject for the special use of regular examinations by the responsible authorities. In doing so, comprehensive load tests are carried out. Despite the high safety precautions, accidents during the transportation of hazardous goods occur over and over again.
As a response to this, we have developed the UN certified TOPline IBC, which is available with approval up to a material density of 2.4 kg/litre. Liquid goods such as brine, acids, paint or special solutions are therefore safely packaged. With this, WERIT has set a benchmark for the German market. With the multi-layer POLYex IBC, we have developed a container that cannot charge electrostatically when filling, emptying and handling. The conductive outer layer of the inside container, an integrated, conductive integrated valve, a two-sided bolted earthing cable and an earthing plate on the pallet prevents the ignition of flammable fluids by discharging.
Earthing cable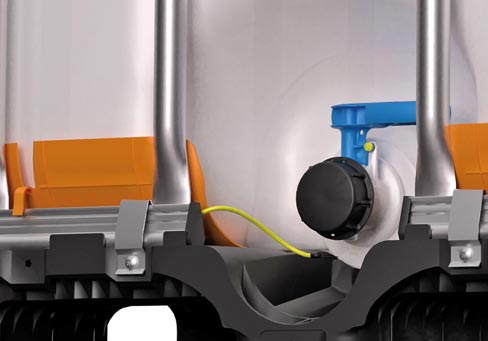 Corner protector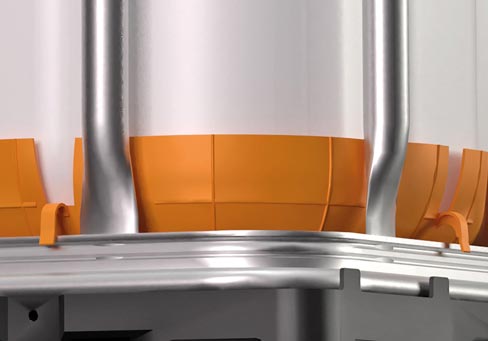 Pallet earthing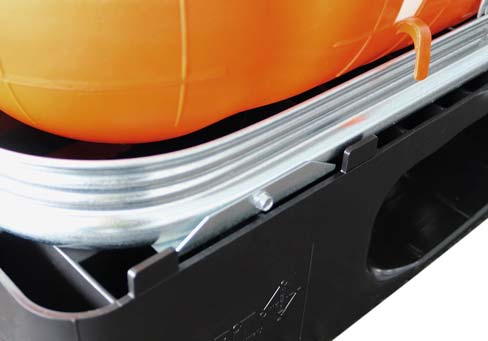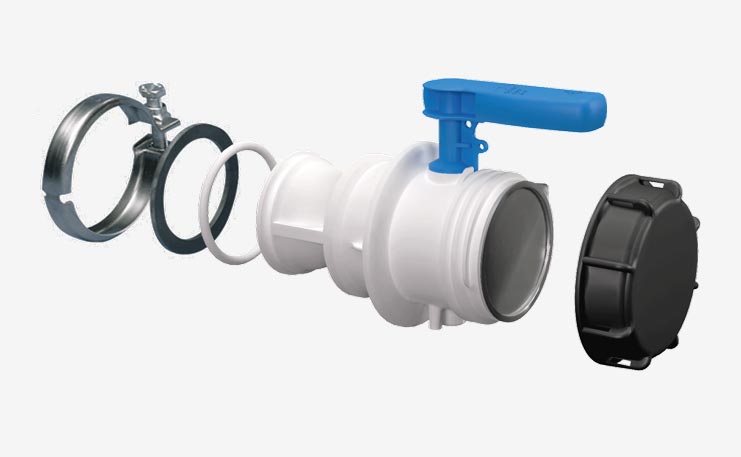 IBC valve – You cant get any tighter
In addition to the IBCs, at WERIT you will also find comprehensive accessories in order to guarantee use in every industrial environment. Our customers put emphasis in safety and reliability, in particular when handling hazardous substances. Problems with the integrated valve may lead to unfavourable colouration and material loss, and toxic may be generated which could serious affect the health of employees. To prevent this, our development department has designed valves that belong to the most tightest on the market, even after being used several times. This makes sure that the smallest droplet is not lost, even under the hardest conditions.
The plus in service
WERIT offers their customers a high level of service - these include the IBC reconditioning, return of containers free of charge and the collection of used and emptied IBCs.
When handling raw materials and resources in a responsible manner, WERIT works continuously on new innovative and intelligent solutions for packaging systems, their collection and environmentally-friendly recycling. The WERIT IBC module system plays off its strengths to the fullest here: it permits a trouble-free cleaning as well as an ecological reconditioning by the replacement of individual components. In this way, WERIT guarantees the resource-conserving and economical multi-way usage.
Via the WERIT RECOline, we take back all WERIT IBCs and return them to the resources cycle. You are looking for a competent partner for the return of emptied IBCs of other manufacturers? This is guaranteed to you via PACKONE©. A special inner container designed by WERIT permits, independent of the brand, the reuse of the IBC module so that a UN approved PACKONE-IBC is generated as good as new.
Use our All-in-One PackOne WERIT Ticket service today and get us to collect your used and emptied container free of charge (please note our collection conditions). Simply fill in the IBC return ticket - we will take care of the rest.
We would be pleased to provide you with non-binding advice on your solution from WERIT
FAQ
Frequently Asked Questions
HDPE is a robust and durable plastic which, in case of our IBC containers, is translucent and protects the content against UV radiation. Our IBC accessories also comprise this special material. HDPE is generated by the industrial polymerisation of ethane. At the beginning, this raw material was milky and waxy. However, today it has developed to an innovative thermoplastic plastic with ideal deformation properties and can be adjusted optimally to all specific requirements by the addition of additives. The HDPE that we use is dimensionally stable at temperatures from -40 to +70 °C and resistant against most alkalis, acids and chemicals.
An interesting fact at the end: HDPE has already been used commercially since 1957 for cable insulation, piping systems and packaging material.
The dimension for the filling opening is the same for all three product lines. The ECOline IBC (non UN), TOPline IBC (UN) as well as the POLYex IBC containers are equipped either with an NW 150 or NW 225 filling opening with screw lid and an optional venting. The ECOline IBC (non UN) is additionally available with an NW 400 filling opening with clamping ring lid.
All of our IBC containers are equipped with a NW 50 or NW 80 discharge valve which is integrated or replaceable.
Naturally. Our containers are suitable for almost all liquids - why shouldn't it also be used as a rain tank? The (food product) industry is already also using water tanks today.