Reusable Transport Packaging
Euronorm stacking boxes
WERIT Euronorm stacking boxes are suitable for use in industry, trade and the foodstuff industry. Thanks to their multitude of versions, they are perfectly suitable for almost every application. Read more
WERIT Euronorm stacking boxes are suitable for use in industry, trade and the foodstuff industry. Thanks to their multitude of versions, they are perfectly suitable for almost every application.
This product series has been produced at WERIT using injection moulding for over 40 years and has been continuously expanded and optimised through various sizes, additives or design adaptations. The Euronorm stacking crates are among the most versatile containers within the WERIT product range.
Suitable for manual handling and automatic conveying technology
Very stable due to the reinforced frame and corner construction
Easy to clean thanks to smooth surfaces
Resistant to acids and alkaline solutions
Cold and heat resistant
With ergonomic handles made of HDPE (3248, 3249, 3295 and 3271 made of PP)
Guaranteed food-safe
100% recyclable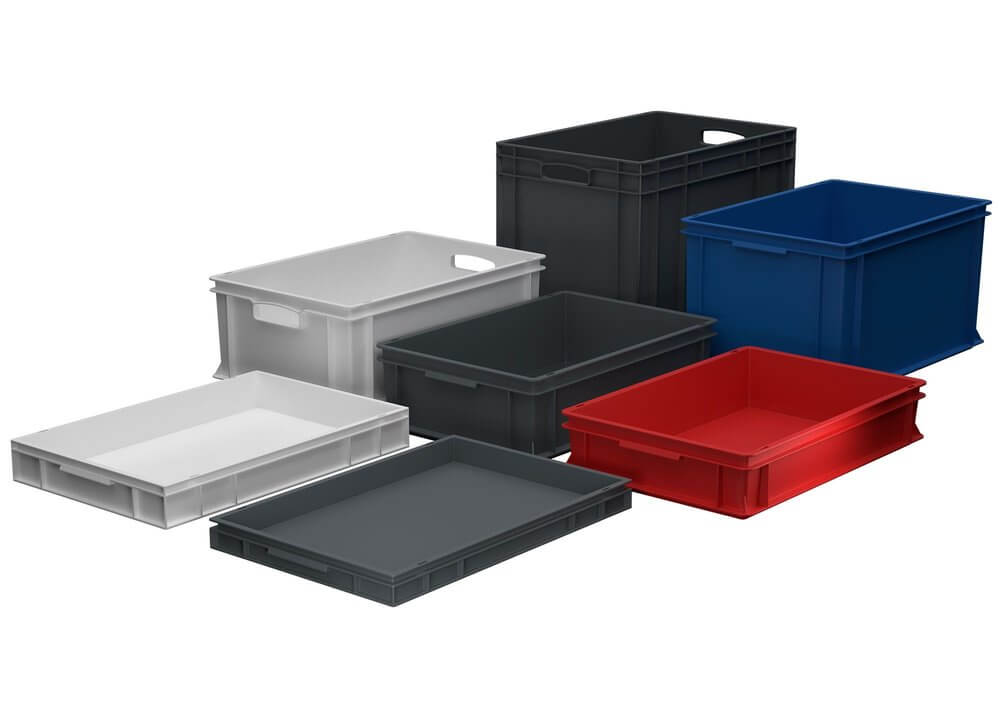 The standard version of the Euronorm stacking box is made using virgin HDPE. However, the design of the container as well as the injection moulding tool allow for other raw materials such as:
PP, virgin material
PP, Translucent
PP, electrically conductive with a surface resistance 10⁴-10⁶ Ohm/cm for the protection of electronic components
Reclaimed material
Additionally, the WERIT Euronorm stacking boxes are available in numerous sizes. Within the sizes, further variants can be offered by alternating base, side and handle options. The various lid options such as snap-on, support or hinged lids complete the overall range. These options make the WERIT Euronorm stacking crates a versatile and universal plastic container that can be adapted to many requirements.
Furthermore, the dimensions of the WERIT Euronorm stacking box are adapted to the dimensions of Euro pallets (1200 x 800 mm) and industrial pallets (1200 x 1000 mm) so that these load carriers compliment the range and perfectly round off the entire supply chain management.
Label holders are available for labelling. To label a container WERIT offers the application of barcode labels. In addition, names, numbering, customer logos or notes can be applied by hot stamping and the WERIT Euronorm stacking boxes can be customised for the customer.
You need Euronorm stacking boxes in a special colour or in your company colour? No problem, many Euronorm stacking boxes are available in the standard colours matt white, grey, red or blue. If your colour is not included, the containers can also be produced in your desired colour. You can find a small selection of colours under the following link "specific solutions".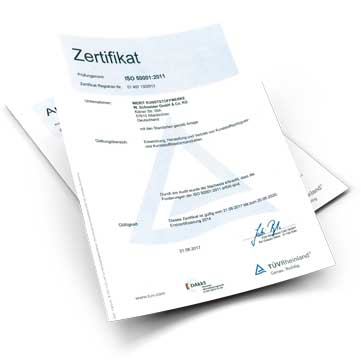 Quality management -
more than just a seal
The quality of the processes and goods is one of the key competitive factors. In doing so, our consistent focus on customers whose requirements form part of our benchmark is our core aspiration.
As a Corporate Group based in Europe, WERIT applies a consistent certified quality management system. This is not only a mark of quality, it also ensures for efficient and safe results that are reflected across the departments and locations.
For a log-term increase in efficiency when using resources:
WERIT Kunststoffwerke, with the locations Altenkirchen, Buchholz and Ottendorf in Germany are certified in accordance with the Energy Management System ISO 50001 since 21.08.2014.
All dimensions, weights and technical data listed in the catalogue are reference values. They do not represent any binding assurance of certain properties or the suitability for certain uses. Tolerances based on technical specifications according to DIN standards.
Amendments and corrections are subject to change. The details are based on our current technical knowledge and experience. Due to the abundance of possible influences during the use of the product that are outside our control, the user is not released from making their own inspections and tests.
A legally binding assurance of certain properties as well as the suitability for a specific application cannot be derived explicitly or implicitly.
If necessary, property rights must be observed.
FAQ
Häufig gestellte Fragen
We would be pleased to provide you with non-binding advice on your solution from WERIT