Food products
Industrial solutions by WERIT
Read more
Set new standards with hygiene and cleanliness
The food industry has high demands on load carriers. Hygiene is essential with the processing of sensitive raw materials such as bakery products, meat or confectionery as contaminated food and foods that have gone bad due to germs, viruses and bacteria are a horror scenario for every food producer. Persons may suffer illness, entire goods loads must be disposed of and ones own reputation is permanently damaged. This is why WERIT produces hygiene pallets, compatible storage and transport containers as well as IBCs tailored especially to the high demands of this industry.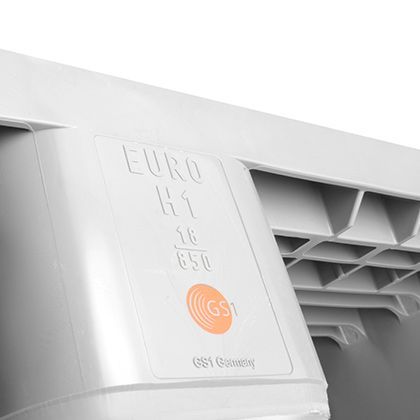 Euro H1 – The hygiene pallet from WERIT
Since 20 years, we have been applying our know-how and experience in the development of hygiene pallets in order to manufacture high-quality carrying products made of robust plastic, which are characterised by a high carrying capacity and a long service life. Moreover, the load carrier from WERIT convince by first class hygiene standards, high dimensional stability, a universal operational capacity and through efficiency, thanks to the effective multiway system. The EURO H1 hygiene pallet is an approved load carrier in the meat industry. Through the GS1 seal, it is marked as a pooling pallet and can be exchanged comprehensively throughout Europe. Standardised container systems that are H2 half pallets and E-box, E1-E3 compatible. The welded skids guarantee a high hygiene standard and smooth running on roller tracks. Tapered edges,centre locking and anti-slip edges guarantee a perfect work flow. The EURO H1 has a long service life and in addition to the food industry, is also used by other industrial areas such as pharmaceuticals or cosmetics.
Reusable transport packagings - Storage crates for every application
Food products want to be stored reliably, taste neutral and transportable. To satisfy these requirements, WERIT has an entire series of plastic containers in many versions. You will find Euro standard stacking boxes, E1-E3 meat crates for meat and sausageproducts, diverse stack and nest containers as well as large containers in our range of products. Manufactured from HDPE plastic, our plastic containers can be optimised with many additives for your respective area of application. Try us out. We have the matching prompt for every requirement.

Increase efficiency by using of stack and nest containers
The raw materials must be transported within the production hall. Our customer endori wanted to design these intralogistic processes more efficient with a new transport packaging. "We looked for a container system suitable for food products that scores with particular functionality and saves space." The DSB-N series stack and nest containers fulfil the highest hygiene standards and they satisfy the requirements of the International Food Standard (IFS) and British Retail Consortium (BRC). The smooth inner walls of the plastic packagings are not only easy to clean, they also protect the filled goods. The empty stack and nest containers DSB-N can be nested in one-another. In this way, you can save a lot of space as the storage volumes of the nested containers are reduced by up to 65 percent. endori reduces costs for empty transports and storage. In a filled state, the containers can be stacked without the sensitive content being damaged. The boxes are exceptionally robust and dimensionally stable in a wide temperature range between -40 and +70 degrees Celsius so that they can therefore be used in deep-freezers by customers without any worries.
IBC – Liquids packaged safely
Being a specialist for Intermediate Bulk Containers, briefly IBCs, WERIT offers storage and transport solutions for different industries. With different production lines, each in four sizes, we are specialised particularly in the foodstuff industry. Users and ultimately, their end customers place respectively high purity and quality requirements on the IBCs. Food product IBCs must satisfy the specifications of the external official bodies such as FDA, BRC etc. as well as manufacturing processes in accordance with HACCP or GMP where the latter is orientated on the Directive 203/94/EC for the manufacturing of pharmaceutical products. Moreover, there are further requirements that the IBCs have to fulfil. The transport of food products and their auxiliary materials such as aromas, colourants, etc. are gaining continuously in importance. For the safe storage, trouble-free transport as well as hygienic filling and emptying, WERIT has developed the NUTRiline series. Manufactured from highly purified (HD)PE plastic, these containers are particularly durable, stable and fulfil the specifications of FDA, GMP and HACCP. Thanks to the innovative manufacturing procedures of a clean room production, potential contamination is avoided right from the beginning.
Will fit, guaranteed
Our standard solutions are used in many businesses. However, in some companies, certain requirements must be fulfilled or special building features considered. In such cases, we are happy to manufacture to size for you. Perfectly matched to the conditions on-site. Talk to our customer services who will be pleased to consult you.