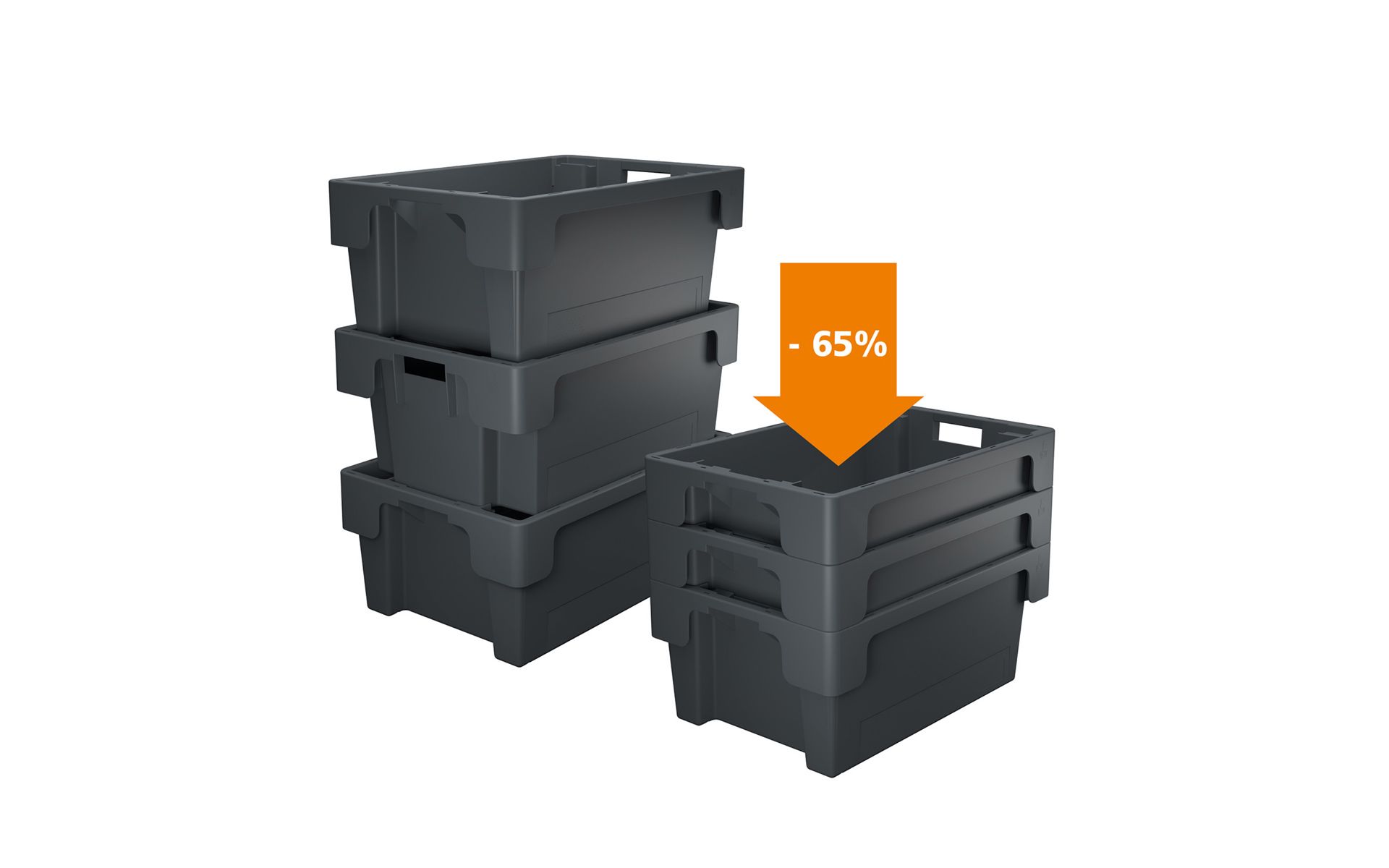 A benefit for the environment
Stack and nest containers
for a sustainable logistics
Clever ideas for the transport of tomorrow
WERIT stack and nest containers (DSB-N) are the first choice for sustainable solutions when one considers the current climate debate and the use of plastic waste.
For small orders, many companies fall back on disposable packagings such as cardboard boxes or plastic bags. At a first glance, a good and simple solution. However, looking at this in more detail in the next step, it produces a great amount of avoidable waste. The better solution is the use of WERIT stack and nest containers, which can be stacked when full and nested together when empty to save space.
DSB-N – Space saving in the warehouse
WERIT stack and nest containers can be stacked in a filled state and thanks to their robust design, are very stable. When empty, they can simply be nested into each other and thus achieve a volume reduction of 65%.
The volume reducible plastic containers from WERIT are used in the in-house as well as external logistics as they convince by their special features. They are impact resistant, break-proof and dimensionally stable and in addition to manual handling, are therefore suitable for automatic conveying technology.
Lack of space in the warehouse and logistics in industrial businesses are daily issues, but also expensive and cumbersome. Frequently, long distances have to be covered and more storage space is required. In the warehouse, one is always trying to save space or make new space, load volumes within the logistics must be used efficiently. Who would want to invest high costs in the transportation of unfilled containers? With our clever stack and nest containers, these costs can be reduced to a minimum as the empty containers can simply be nested into another. Their volume is reduced by 65% in the process.
WERIT stack and nest container DSN-B being used in the in­t­ra­lo­gist­ic
Conveyor systems and container take over an important task in an intralogistic system. With the freely moving intelligent Open Shuttles from KNAPP, new dimensions are opened for the flexible design of storage processes.
Open Shuttles are driverless transport systems (AGV) and move completely freely and without guide lines over the available area.
In the following video, you can see the combination of WERIT stack and nest containers DSB-N with the Open Shuttles from KNAPP at a user in Denmark.
Benefits that convince
Highlights, dates and facts
Properties
Suitable for manual handling and automatic conveying technology
Impact resistant, break-proof and dimensionally stable
Easy to clean thanks to smooth surfaces
With ergonomic handles
Cross-industry solution
Resistant to acids and alkaline solutions
Cold and heat resistant
Guaranteed food-safe
Facts and numbers
Made of HDPE
65% reduction in volume
100% recyclable
The Clean Box from Bio-Circle
The Bio-Circle Surface Technology GmbH is a company with main office in Gütersloh, North Rhine-Westphalia operating internationally. The two-man company founded in 1985 by graduate engineers Ulrich and Manfred Berens stands for more than 30 years of development, production and the sales of chemical and biotechnological products around surface technologies.
For the area of mobile part washing devices "CLEAN BOX ", Bio-Circle uses the WERIT DSB-N stack and nest containers. The different variants of the CLEAN BOX are suitable for the effective pre-cleaning of small but also large and heavy manageable parts. That renders this concept usable in many plant and production areas such as, in maintenance, mechanical or in industrial construction. The CLEAN BOXs are characterised in particular by their circulatory system, their simple handling and the use of low-temperature cleaning.
Specific material solutions for individual plastic containers
In addition to the different individual paths for identification, we offer you additional specific material solutions for the most varied applications. Depending on the customer request and material requirements, WERIT adjusts the series production such, for example, to manufacture customer-specific boxes that are UV protected, antimicrobial or suitable for food.
Especially when dealing hygiene issues, low bacterial densities or a low concentration of bacteria, our customers put their trust in containers of the WERIT STERiline. For all surfaces that come into contact with the product, we use a special additive that counteracts contamination of the filled media - bacteria, algae and fungi as well as viruses therefore do not have any chance. As humans and the environment are very close to our heart, here we do not use any chemical biocides or highly volatile nanomaterials.
We would be pleased to provide you with non-binding advice on your solution from WERIT