Food product (max. density: 1.6)
NUTRiline
Intermediate Bulk Container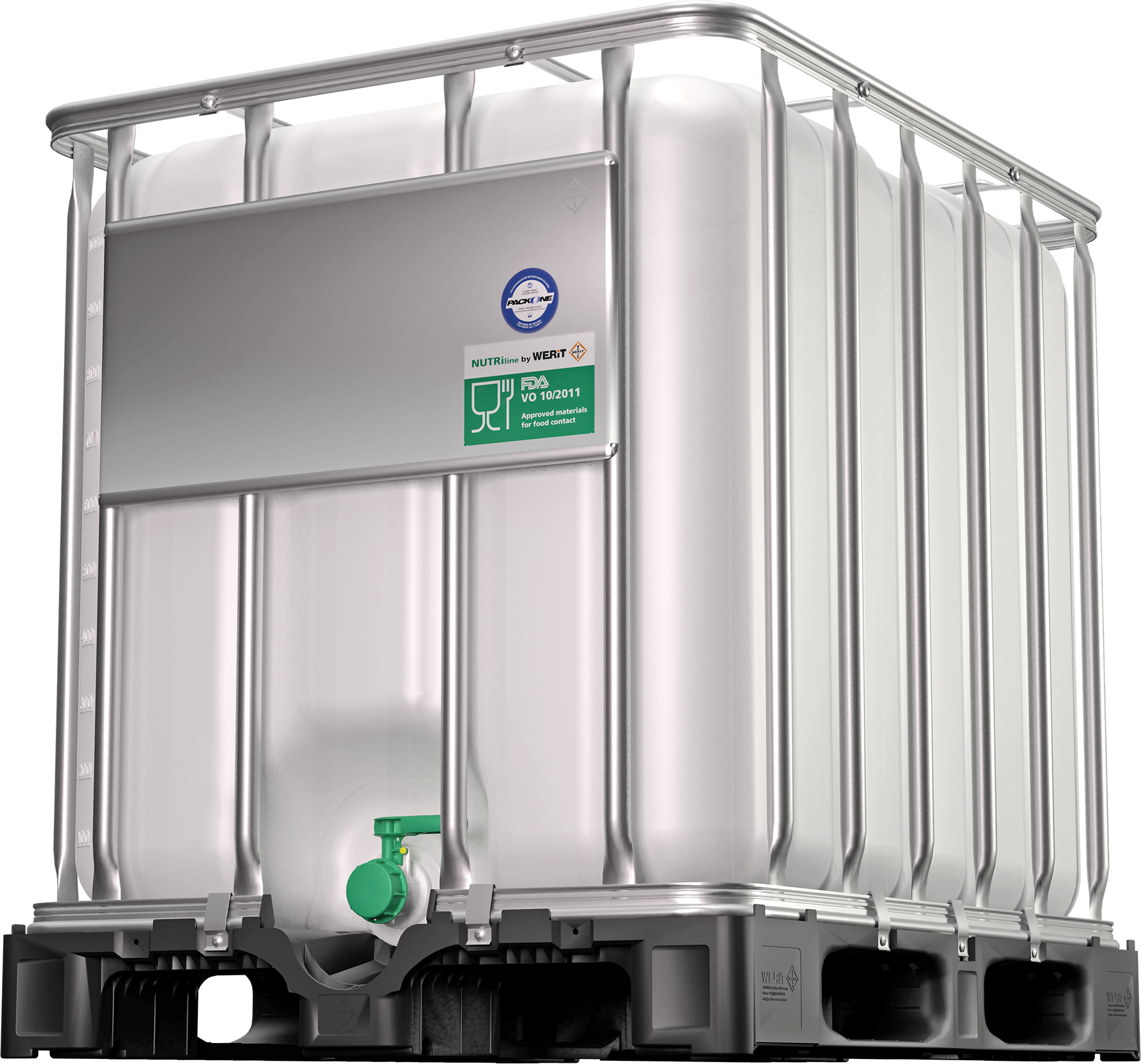 NUTRiline are designed specifically for the requirements of the foodstuff industry.
Fulfils the requirements according to FDA/EN 10/2011, Halal, Kosher
Production according to BRC, FSC 22000, HACCP
Manufacturing of the components from primary raw materials in a clean room
Valve and lid secured with a seal
Durable, easy care plastic pallet
Reduced risk of deposits thanks to the vertical frame structure
Film hood for protection against contamination during storage and transport
Also possible as UN version
Dimensions
The following dimensions are standardised IBCs for filling materials up to a density of 1.6 Rho
| Volumes | length | width | height |
| --- | --- | --- | --- |
| 600 | 1200 | 800 | 1013 |
| 800 | 1200 | 1000 | 1000 |
| 1000 | 1200 | 1000 | 1163 |
Plastic pallet
Skid pallet

max. density: 1,9
Material:
polythene

Valves
We offer integrated or replaceable valves.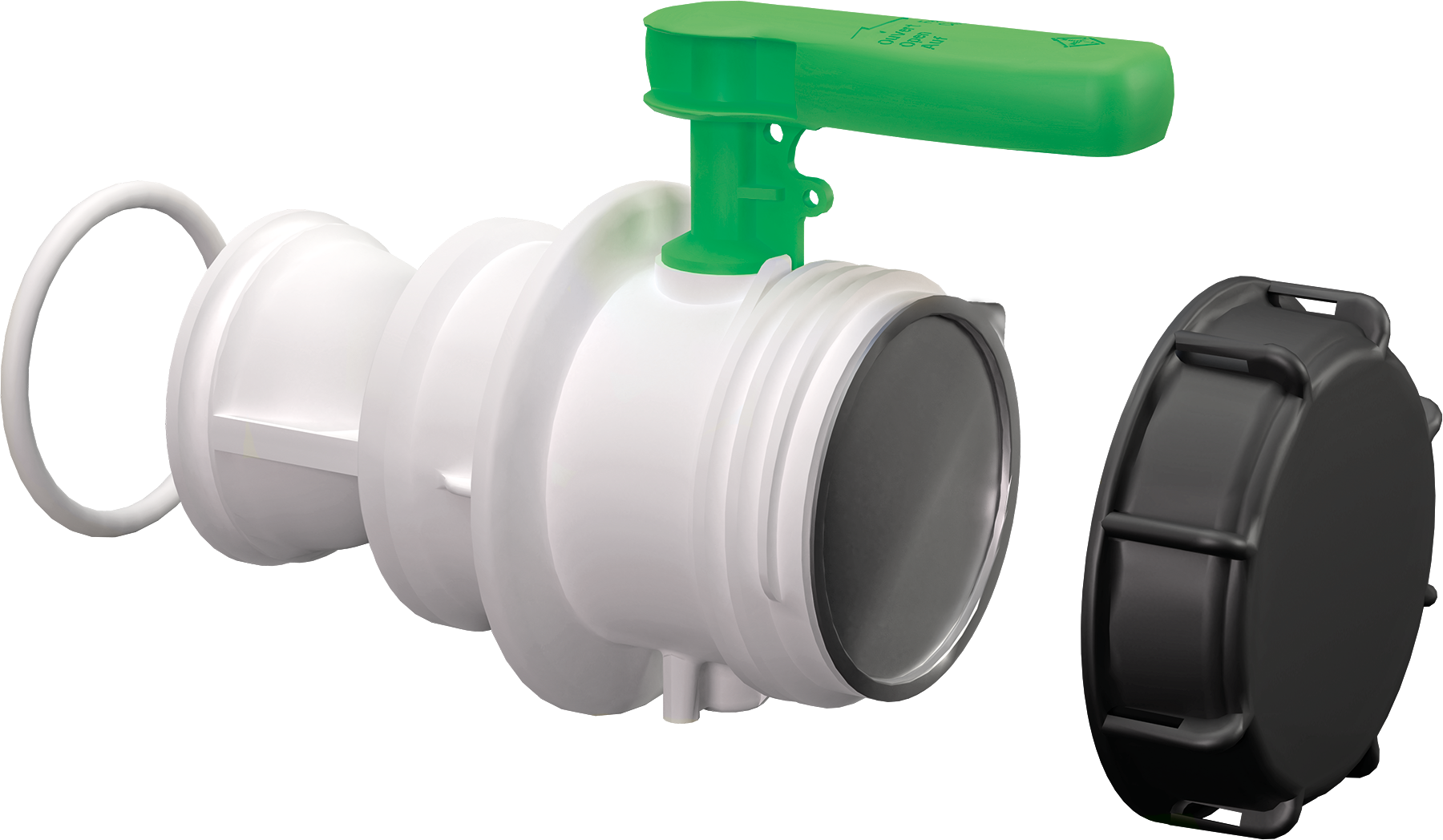 | Volumes | DN 50 mm | DN 80 mm |
| --- | --- | --- |
| 600 | | |
| 800 | | |
| 1000 | | |
Lid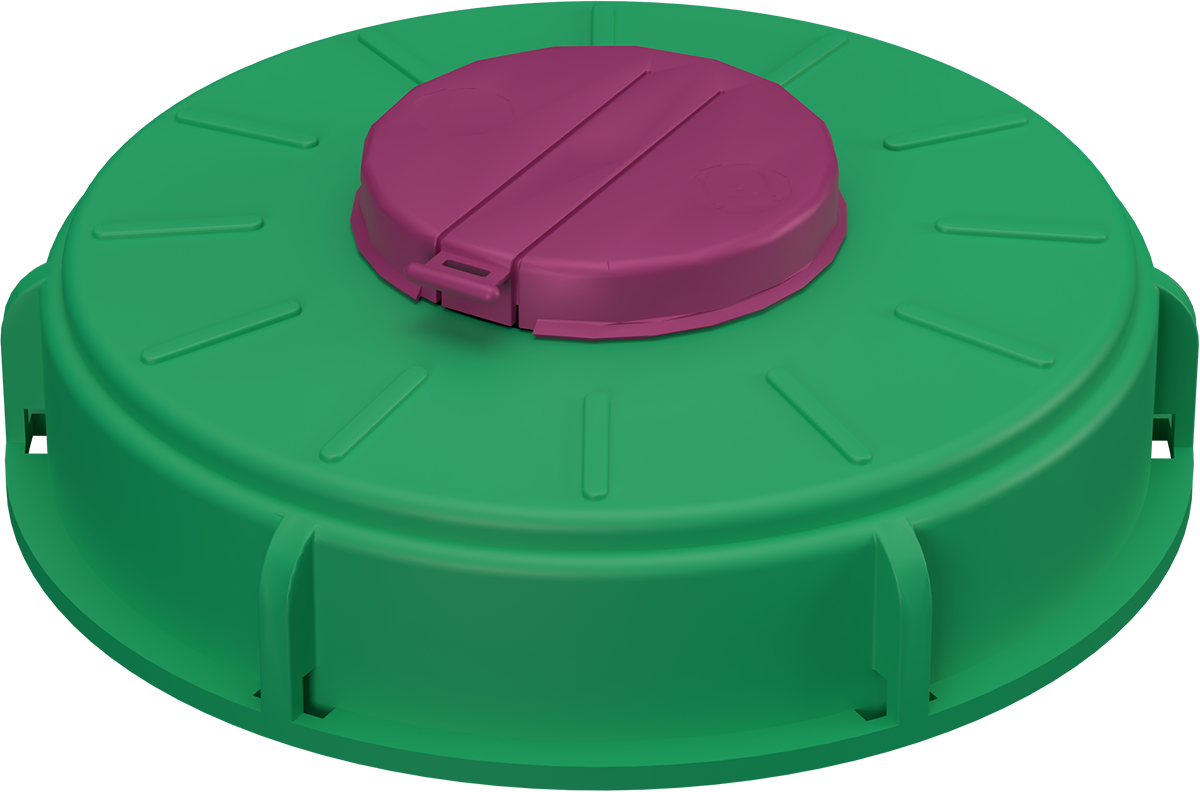 | Volumes | DN 150 mm | DN 225 mm |
| --- | --- | --- |
| 600 | | |
| 800 | | |
| 1000 | | |
The plus in service
WERIT offers their customers a high level of service - these include the IBC reconditioning, return of containers free of charge and the collection of used and emptied IBCs.
When handling raw materials and resources in a responsible manner, WERIT works continuously on new innovative and intelligent solutions for packaging systems, their collection and environmentally-friendly recycling. The WERIT IBC module system plays off its strengths to the fullest here: it permits a trouble-free cleaning as well as an ecological reconditioning by the replacement of individual components. In this way, WERIT guarantees the resource-conserving and economical multi-way usage.
Via the WERIT RECOline, we take back all WERIT IBCs and return them to the resources cycle. You are looking for a competent partner for the return of emptied IBCs of other manufacturers? This is guaranteed to you via PACKONE©. A special inner container designed by WERIT permits, independent of the brand, the reuse of the IBC module so that a UN approved PACKONE-IBC is generated as good as new.
Use our All-in-One PackOne WERIT Ticket service today and get us to collect your used and emptied container free of charge (please note our collection conditions). Simply fill in the IBC return ticket - we will take care of the rest.
FAQ
Frequently Asked Questions
HDPE is a robust and durable plastic which, in case of our IBC containers, is translucent and protects the content against UV radiation. Our IBC accessories also comprise this special material. HDPE is generated by the industrial polymerisation of ethane. At the beginning, this raw material was milky and waxy. However, today it has developed to an innovative thermoplastic plastic with ideal deformation properties and can be adjusted optimally to all specific requirements by the addition of additives. The HDPE that we use is dimensionally stable at temperatures from -40 to +70 °C and resistant against most alkalis, acids and chemicals.
An interesting fact at the end: HDPE has already been used commercially since 1957 for cable insulation, piping systems and packaging material.
The dimension for the filling opening is the same for all three product lines. The ECOline IBC (non UN), TOPline IBC (UN) as well as the POLYex IBC containers are equipped either with an NW 150 or NW 225 filling opening with screw lid and an optional venting. The ECOline IBC (non UN) is additionally available with an NW 400 filling opening with clamping ring lid.
All of our IBC containers are equipped with a NW 50 or NW 80 discharge valve which is integrated or replaceable.
Naturally. Our containers are suitable for almost all liquids - why shouldn't it also be used as a rain tank? The (food product) industry is already also using water tanks today.