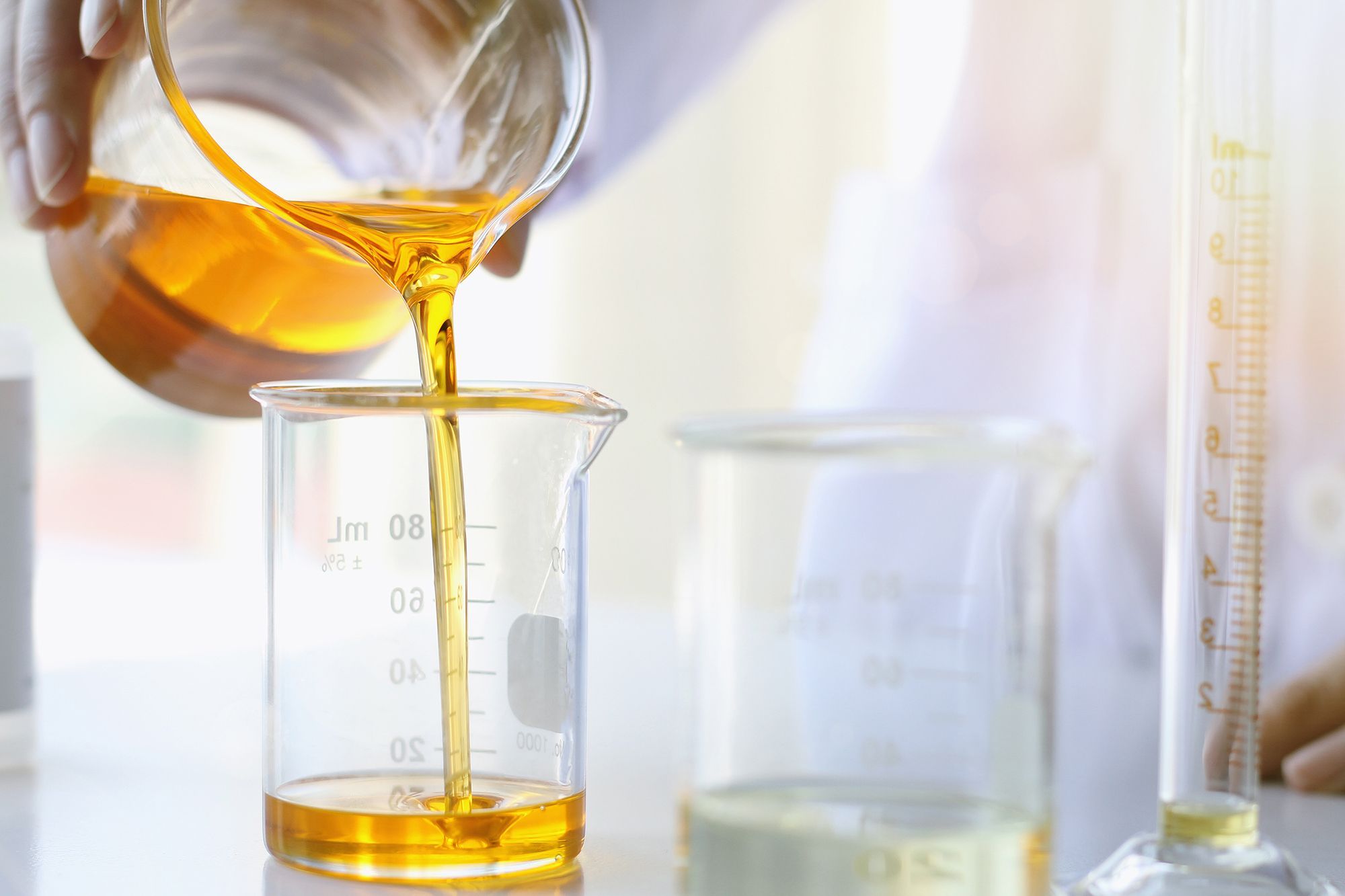 Industries
Chemicals, Pharmaceuticals and cosmetics
Industrial solutions by WERIT
Packagings from WERIT for chemicals, pharmaceuticals and cosmetics
Storage, stacking and transporting ... and that being clean, safe and efficient. Chemicals belong to the most frequently transported assets at all. Transportation takes place in great quantities on the road, rails or on water. In doing so, transportation is not only carried out by the chemical industry, but trade companies of other industry sectors also transport amounts of chemical substances and mixtures that must not be underestimated.
For the transportation of so-called hazardous goods, in Germany, the EU and even world-wide, there are a multitude of laws, regulations and guidelines that, in particular ensure the adherence of special transport and safety measures for the protection of humans, animals and the environment. Typical hazardous goods are, for example acids, brine, flammable paints, gases or even pesticides and insecticides.
The best products for transport and storage
The transportation of sensitive goods places high demands and a suitable packaging. We know the special features of the industry and are familiar with the high hygiene requirements in the pharmaceutical and cosmetics industry as well as the extensive safety guidelines in the chemical industry. Other factors are the impacts of the climate change, capacity bottlenecks, outdated infrastructure and digitisation. Pharmaceutical and chemical logistic companies are faced with real challenges as they are ruled by the global supply chains into which the suppliers of raw materials and pre-products as well as the sales and distribution of the finished products are integrated. Reusable transport packagings, hygiene pallets or IBCs are especially developed for this purpose, certified and fulfil these technical and hygienic requirements.
The Clean Box from Bio-Circle
The Bio-Circle Surface Technology GmbH is a company with main office in Gütersloh, North Rhine-Westphalia operating internationally. The two-man company founded in 1985 by graduate engineers Ulrich and Manfred Berens stands for more than 30 years of development, production and the sales of chemical and biotechnological products around surface technologies.
For the area of mobile part washing devices "CLEAN BOX ", Bio-Circle uses the WERIT DSB-N stack and nest containers. The different variants of the CLEAN BOX are suitable for the effective pre-cleaning of small but also large and heavy manageable parts. That renders this concept usable in many plant and production areas such as, in maintenance, mechanical or in industrial construction. The CLEAN BOXs are characterised in particular by their circulatory system, their simple handling and the use of low-temperature cleaning.
Safety for hazardous goods
Depending on the properties and safety requirements, hazardous goods must be packaged in different ways. Drums, canisters and IBCs must comply with the internationally established safety stipulations and be subject for the special use of regular examinations by the responsible authorities. In doing so, comprehensive load tests are carried out. Despite the high safety precautions, accidents during the transportation of hazardous goods occur over and over again.
As a response to this, we have developed the UN certified TOPline IBC, which is available with approval up to a material density of 2.4 kg/litre. Liquid goods such as brine, acids, paint or special solutions are therefore safely packaged. With this, WERIT has set a benchmark for the German market. With the multi-layer POLYex IBC, we have developed a container that cannot charge electrostatically when filling, emptying and handling. The conductive outer layer of the inside container, an integrated, conductive integrated valve, a two-sided bolted earthing cable and an earthing plate on the pallet prevents the ignition of flammable fluids by discharging.
Earthing cable
Corner protector
Pallet earthing
EURO H1 – The hygiene pallet from WERIT for the highest demands
Since 20 years, we have been applying our know-how and experience in the development of hygiene pallets in order to manufacture high-quality carrying products made of robust plastic, which are characterised by a high carrying capacity and a long service life. Moreover, the load carrier from WERIT convince by first class hygiene standards, high dimensional stability, a universal operational capacity and through efficiency, thanks to the effective multiway system. The EURO H1 hygiene pallet stands out particularly with its new GS1 marking (former EHI marking), which has been distinguished as comprehensively exchangeable. Standardised container systems such as the Euro standard stacking boxes and the H2 half pallets are compatible. The welded skids guarantee a high hygiene standard and smooth running on roller tracks. Tapered edges,centre locking and anti-slip edges guarantee a perfect work flow.
Closed, welded skids
GS tested safety, DIN plus certified
GS1 certified