Canisters
Special canister "Ecovent®"
For perfect emptying without spray
With its patented ECOVENT procedure, the WERIT special canister Ecovent® ensures a complete and smooth emptying without glugging of the liquid. Moreover, it convinces through its optimum stacking properties, precise dosing and the universal application thanks to its UN approval. This allows hazardous liquid goods, for example from the chemical industry as well as food to be transported safely.
ECOVENT® canister is available as a 20 litre canister and as as 25 litre canister in different weight classes and in various colours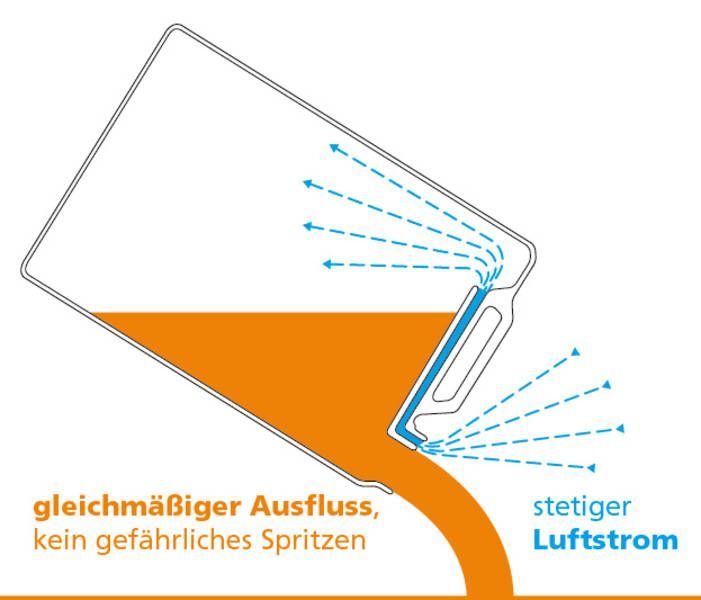 Emptying smoothly without glugging of the liquid
Avoid dangerous spray during emptying
Precise dosing
Guaranteed emptying of residue
Versatile application due to hazardous goods approval
Optimised pallet utilisation: 17 units per level
Optimum stacking properties
Low delivery time
Large labelling area
Technical specifications
| | 20 litre canister | 25 litre canister | Screw cap |
| --- | --- | --- | --- |
| Weight classes | 950 und 1150 g | 1000 und 1150 g | |
| Units per HGV | 2652 Stk. | 2652 Stk. | |
| Material | HDPE new goods | HDPE new goods | HDPE new goods |
UN approved for the transportation of hazardous goods
Approved for contact with food
Ongoing external audits (BAM)
ECOVENT® — Patent for the market in UK and NL:
Europ. Patent no. 067744B1
US patent no. 5,538,165
Licence holder: Dr. Frohn, Munich
Accessories
Standard screw cap with PE-sealing ring
Screw cap with PE venting valve
Tamper evident ring
Screw cap spanner
Extras
Wide choice of colours
Customer logo
Labelling service
Metric measuring unit
FAQ
Frequently Asked Questions
WERIT offers a range of canisters with the standard filling quantities of 20 litres and 25 litres. Canisters with 5 litre, 10 litre and 12.5 litre filling quantities will be available in the near future. Simply contact us!
All WERIT canisters are manufactured at an BRC AA accredited location and are UN accredited for hazardous liquids. The corners are supplemented by reinforced ribs over the entire length and therefore ensure for optimum stacking properties.
WERIT offers the "Anti-Gluing" function for the 20 litre and 25 litre sizes which is particularly important for hazardous or valuable liquids.