Reusable Transport Packaging
Euronorm stacking boxes perforated
WERIT perforated Euronorm stacking boxes are suitable for use in industry, trade and the foodstuff industry. Read more
WERIT perforated Euronorm stacking boxes are suitable for use in industry, trade and the foodstuff industry.
Thanks to their design, they offer an optimum air circulation.
Suitable for manual handling and automatic conveying technology
Easy to clean
Optimum air circulation
Resistant to acids and alkaline solutions
Cold and heat resistant
With open grip handles
Guaranteed food-safe
100% recyclable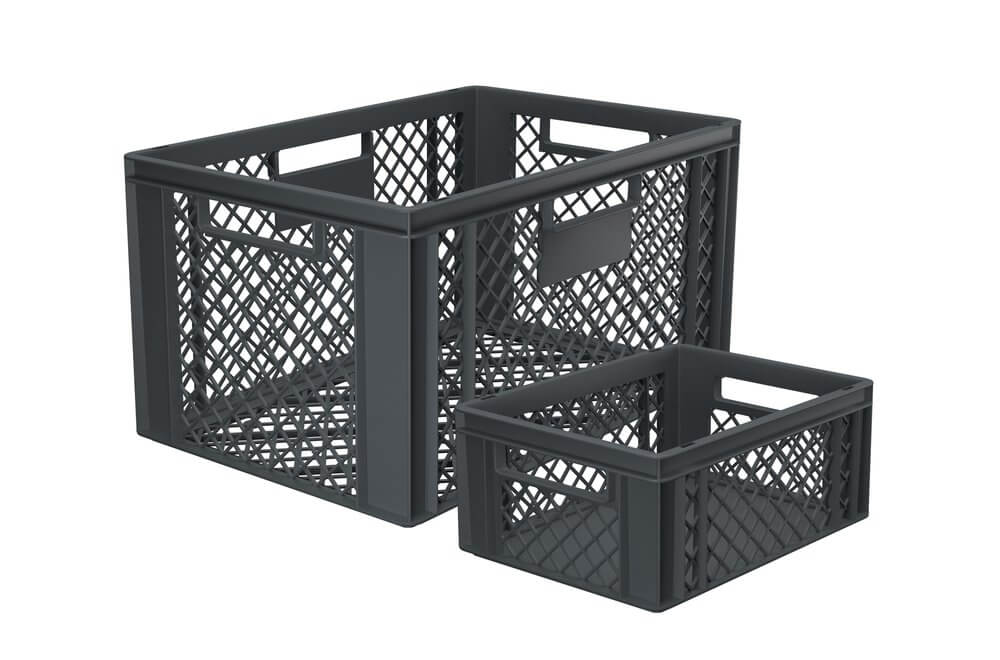 Das Euromaß
Eurobehälter durchbrochen bezeichnen ein in der Industrie überaus gängiges Produkt, das in unterschiedlichen Maßen zu haben ist. Zur Hand genommen wird dabei das sogenannte "Euromaß", dank dem eine Vereinheitlichung problemlos möglich ist. Der Begriff "durchbrochen" bezieht sich auf die Struktur der Wände und eventuell des Bodens. Diese ermöglichen aufgrund der cleveren Gitterstruktur eine perfekte Zirkulation der Luft. Im Gegensatz hierzu steht die geschlossene Bauweise.
Ausschlaggebend für durchbrochene Eurobehälter ist das Euromaß, das ursprünglich für die Europalette "erfunden" bzw. etabliert wurde. Seit den 1960er Jahren wurde die Vereinheitlichung innerhalb des europäischen Frachtverkehrs immer wichtiger und man einigte sich auf einige verbindliche Formate. Im Jahr 1968 wurde von einigen Bahnen der Vertrag über die Schaffung der Eurogitterbox unterschrieben, die der Europalette an die Seite gestellt wurde. Mittlerweile existieren die vereinheitlichten Transportbehälter in diversen Maßen und dienen zahlreichen unterschiedlichen Zwecken.
Praktisch ist das Euromaß bei einem Eurobehälter durchbrochen, vor allem aufgrund der Vereinheitlichung, die sowohl das perfekte Stapeln und Lagern als auch einen reibungsfreien Transport sichert. Das kleinste Standard-Format ist dabei 300 x 200 Millimeter, besonders gängig sind allerdings die Formate 400 x 300 Millimeter sowie 600 x 400 Millimeter, die allerorten anzutreffen sind. Der höchste Standard liegt bei 800 x 600 Millimeter.
WERITs durchbrochene Eurobehälter
Höchste Qualität für die Lebensmittelindustrie
Die Vorteile eines Eurobehälter durchbrochen liegen sowohl in der Einheitsgröße als auch in den praktischen Durchfassgriffen, die einen Transport erleichtern. Gefertigt werden die Behälter aus zu 100 Prozent wiederverwendbarem Kunststoff, der garantiert lebensmittelecht ist. Dabei werden sowohl die Beständigkeit gegenüber Kälte und Hitze gewährleistet als auch eine Unempfindlichkeit gegenüber Säuren und Laugen. Ein weiterer Pluspunkt besteht darin, dass sich dieses Produkt ideal reinigen lässt und lebensmittelecht ist. Dies gilt jedoch für all unsere Produkte, von Eurobehältern mit Deckel über Eurokisten bis hin zu ESD-Behältern.
Einsatzgebiete sind in erster Linie die Lebensmittelindustrie, aber auch der Einzelhandel sowie die Fleischverarbeitung. Daneben existieren auch noch andere Einsatzformen in Handel und Industrie.
Wir weisen ausdrücklich auf das vielfältige Zubehör zu den durchbrochenen Eurobehältern hin. Wer möchte, kann die stapelbaren Kisten nicht nur in verschiedenen Höhen ordern, sondern auch noch Auflagedeckel oder Scharnierdeckel erhalten. Ebenfalls im Sortiment befinden sich passende Stülpdeckel. Für die perfekte Zuordnung werden Etikettenhalter angeboten und der Transport durch Rollwagen mit TÜV/GS- Siegel erleichtert, die eins zu eins zu den Formaten der Eurobehälter wie z. B. E1-Kisten passen.

All dimensions, weights and technical data listed in the catalogue are reference values. They do not represent any binding assurance of certain properties or the suitability for certain uses. Tolerances based on technical specifications according to DIN standards.
Amendments and corrections are subject to change. The details are based on our current technical knowledge and experience. Due to the abundance of possible influences during the use of the product that are outside our control, the user is not released from making their own inspections and tests.
A legally binding assurance of certain properties as well as the suitability for a specific application cannot be derived explicitly or implicitly.
If necessary, property rights must be observed.
We would be pleased to provide you with non-binding advice on your solution from WERIT