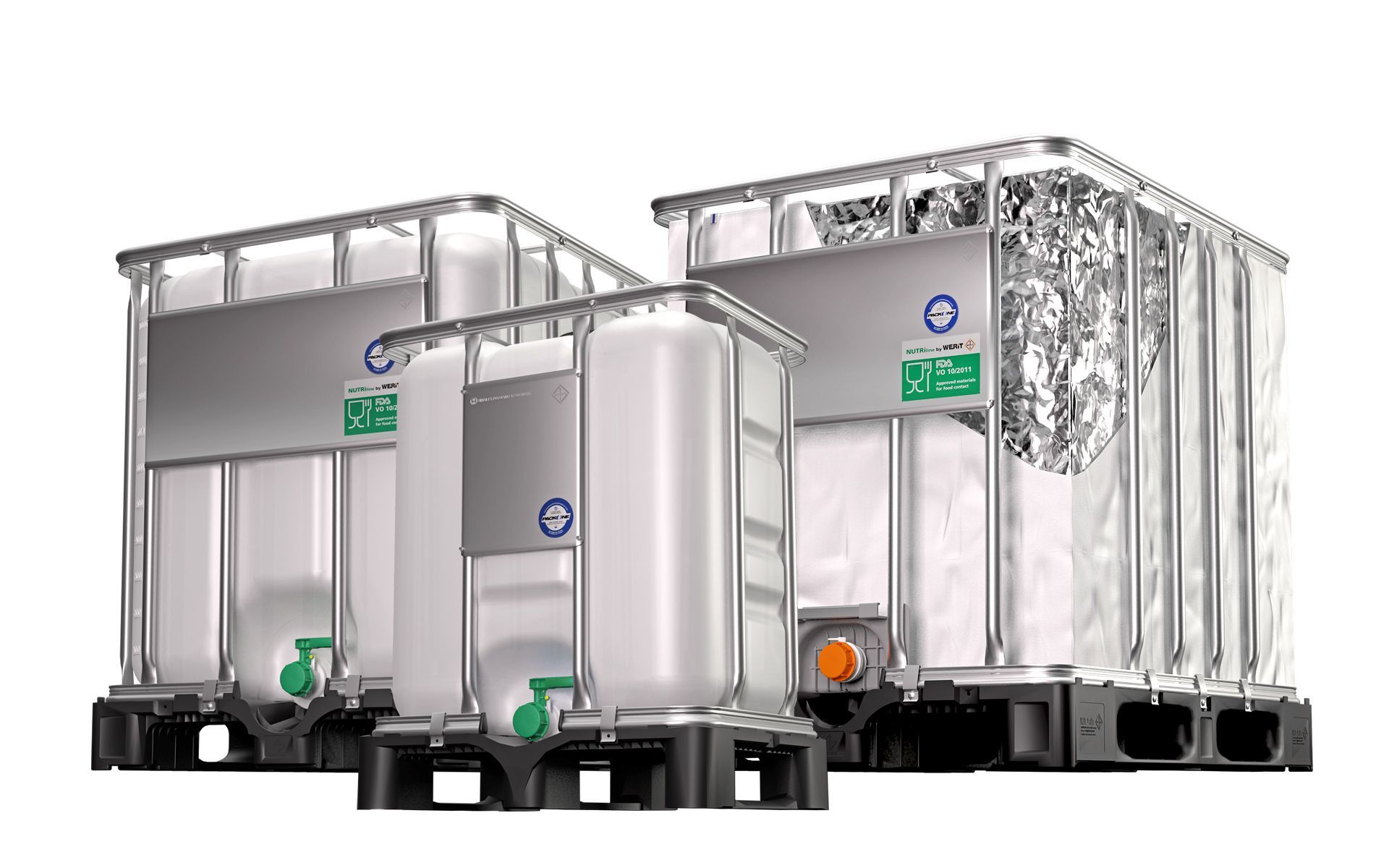 Intermediate Bulk Container
NUTRiline
Food Family
IBC packaging concepts for the food industry
NUTRiline packaging is specifically designed to meet the needs of the food industry. Both in production and logistics, the increased requirements for material and cleanliness are met.
Find more WERIT packaging solutions for the food industry in our industry overview.
Features of the NUTRiline Family
Compliance with the requirements according to FDA/ EN 10/2011, Halal, Kosher
BRC accredited manufacturing in Manchester, UK
Production of components from primary raw materials in clean room
Valve and cover secured against manipulation with seals
Hygienic, durable plastic pallet without metal parts in contact with the floor
Foil hood for protection against contamination during storage and transport
NUTRiline
As a specialist for Intermediate Bulk Containers, or IBCs for short, WERIT offers storage and transport solutions for various industries. With various product lines in four sizes each, we are particularly specialised in the food industry. Users and ultimately their end customers place correspondingly high purity and quality requirements on IBCs. Food IBCs have to meet the requirements of external official bodies such as FDA, BRC etc. as well as manufacturing processes according to HACCP or GMP, the latter being based on the directive 203/94/EC for the production of pharmaceuticals.
In addition, there are further requirements that IBCs must meet. The transport of foodstuffs and their auxiliary materials such as flavours, colourings etc. is becoming increasingly important. WERIT has developed the NUTRiline series for safe storage, easy transport and hygienic filling and emptying. Manufactured from high purity HDPE plastic, these containers are particularly resilient, stable and meet FDA, GMP and HACCP requirements. The innovative manufacturing process of a clean room production prevents possible contamination from the very beginning.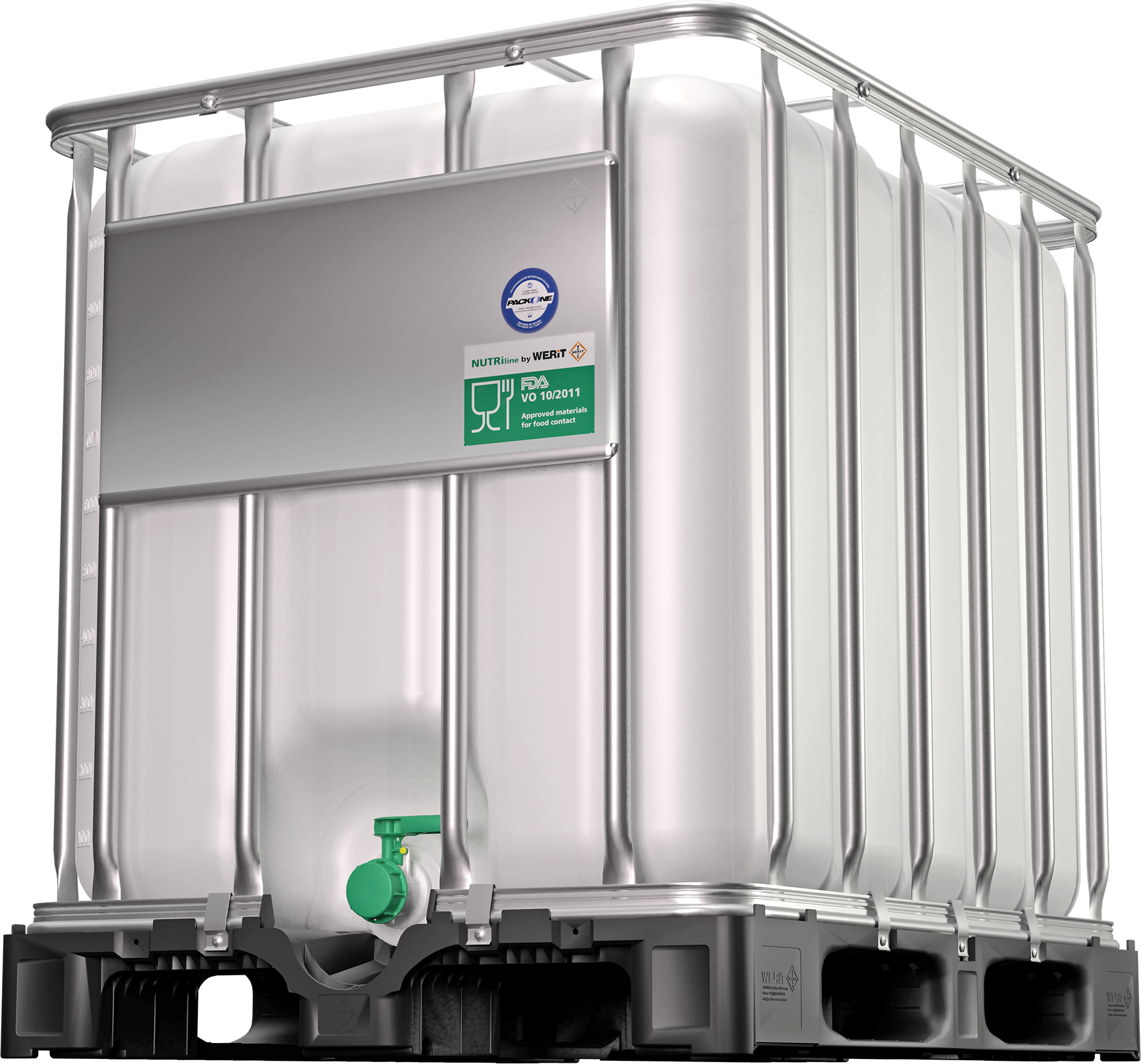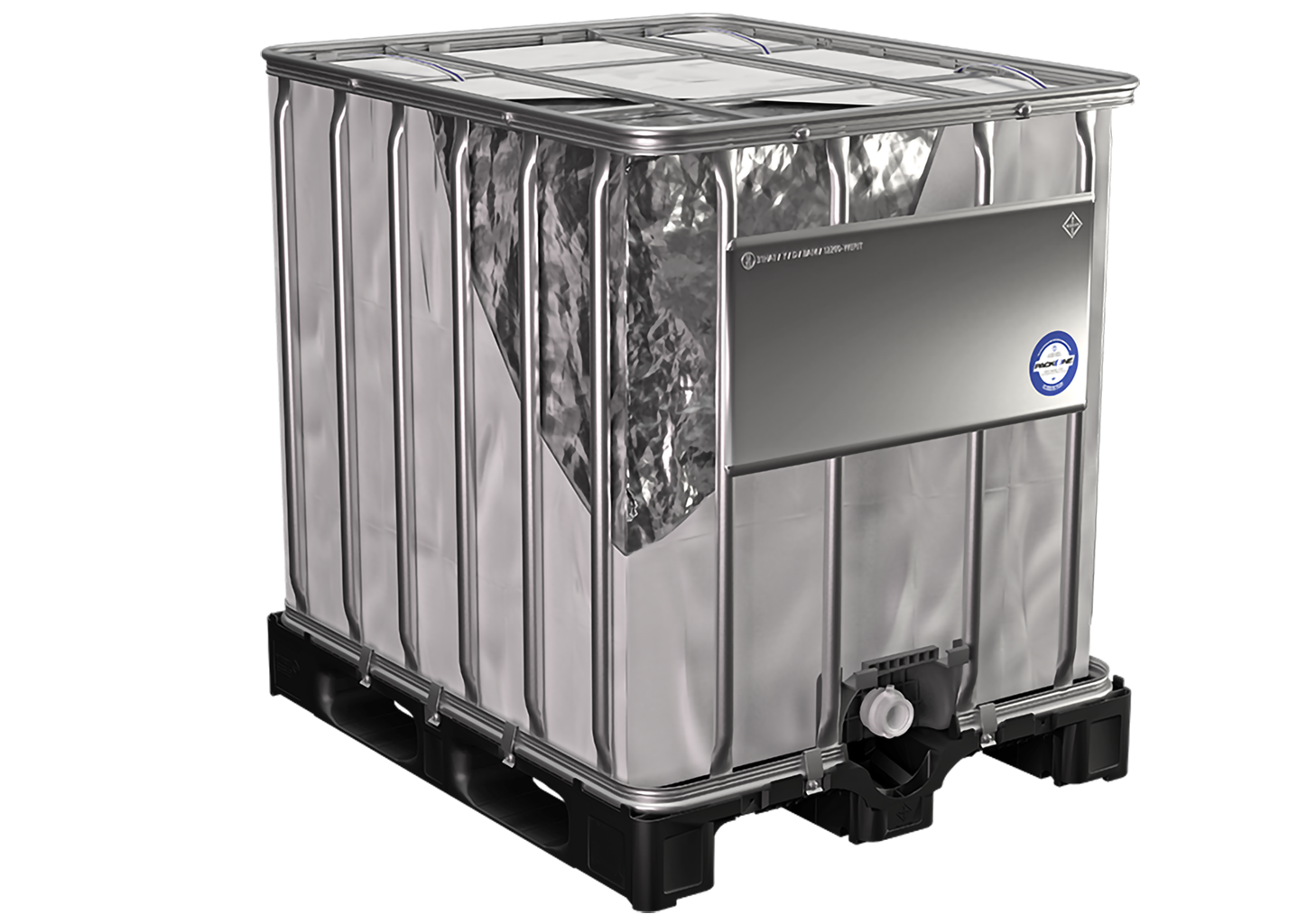 NUTRilineaseptic
Filling volume 600 or 1000 litres
For food and sensitive liquids
With flexible inner container (FlexBag)
Integrated, heat-resistant outlet fitting
Galvanized, easy to clean tubular steel frame
Durable, easy-care plastic pallet
Ready-to-Fill, no assembly or pre-cleaning
Optimized for sterile filling and emptying
Return and reuse via PackOne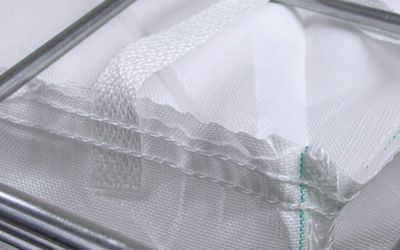 Flexbag
Outer cover made of PE fabric
LDPE inliner for longer minimum durability
High resistance to flexcracks
Patented folding guarantees full filling volume
FDA compliant according to EN 10/2011, Halal, Kosher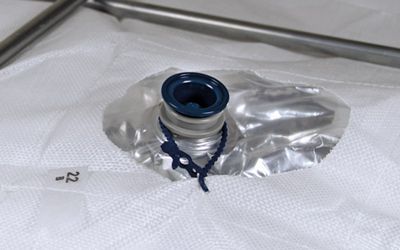 Elpo connection
For the common filling systems of the food industry
Steamable up to 125°C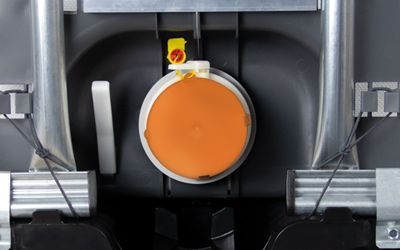 Security
Valve is tamper-proof (sealed)
Separate, clip-on handle lever prevents unintentional opening
Attached valve closure flap blocks opening
Aseptic indicator shows sterility (red = sterile)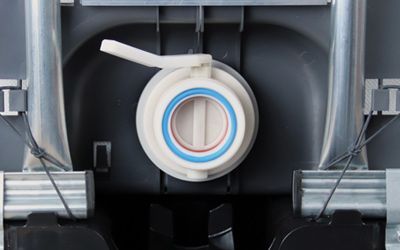 Valve
Flap tap valve enables submirror filling and quick emptying
Housing and flap made of POM, up to 5x steamable up to 125° C
Heat-resistant silicone seal (tight even with multiple, sterile partial withdrawals)
With dairy pipe thread (DIN 11851) for common connections in the food industry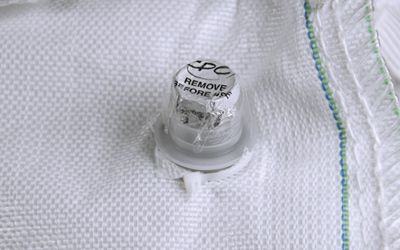 AirAssist connection
Air connection for inflating the air cushion
Sterile emptying of highly viscous liquids by unfolding the separate air cushion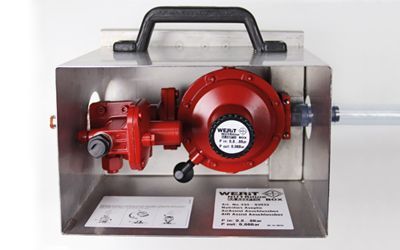 AirAssist Box
The AirAssist Box controls the air pressure of the air cushion synchronously with the emptying
Prevents overpressure and damage to the inliner
Easy to connect
COMPACTline
The unique 300 litre COMPACTline is ideal for tight spaces and working environments due to its compact dimensions. It can be moved with standard pallet trucks and forklifts. Its advantageous size often makes it ideal for liquids with a short shelf life. Easy filling via the lid opening and removal via the resealable outlet valve make the COMPACTline a simple, functional package that is also excellently suited for emptying.
Suitable for many filling media due to UN and food approval. Multiple use through reconditioning is naturally possible with the new COMPACTline.
more informations or directly to the product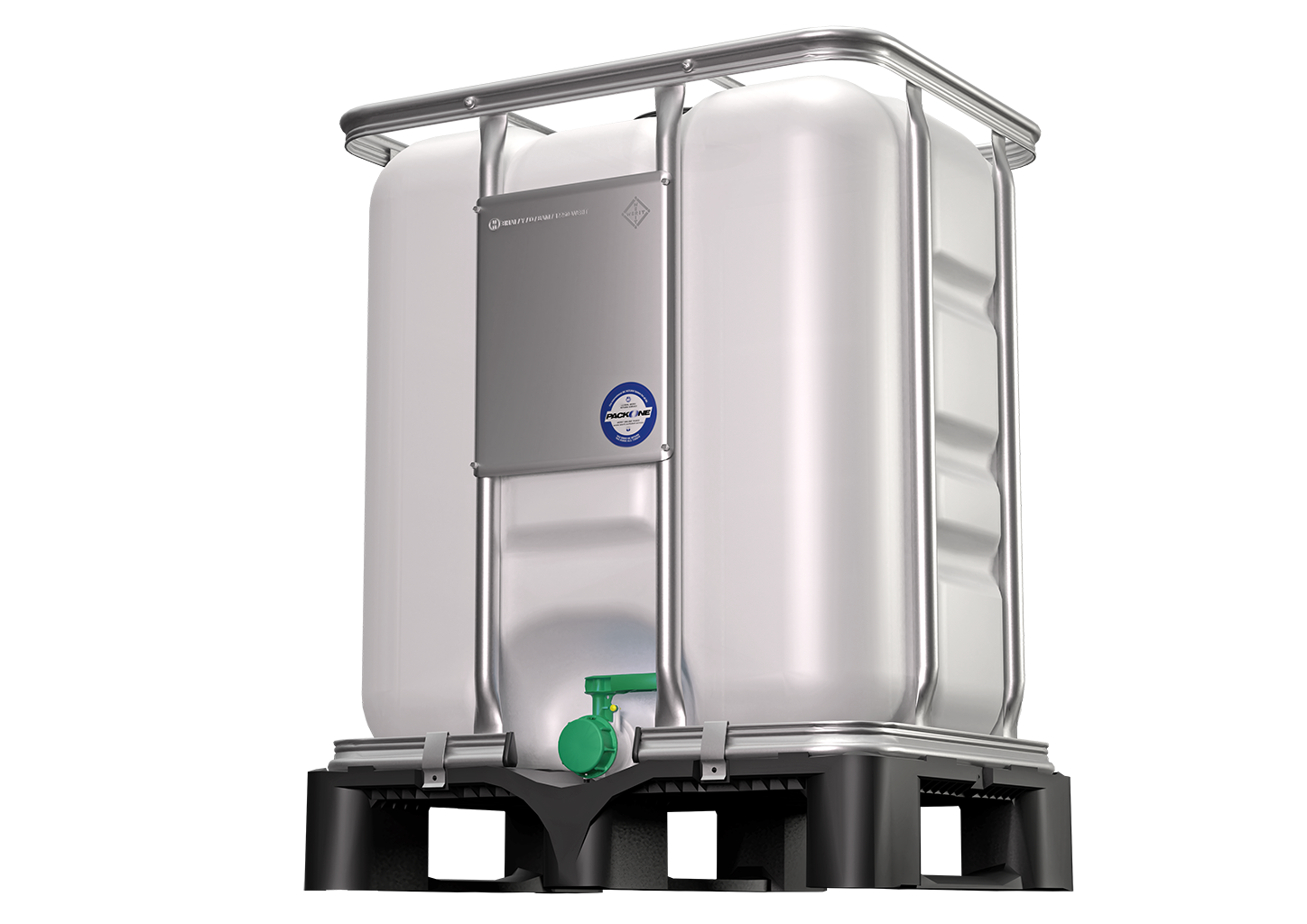 We would be pleased to provide you with non-binding advice on your solution from WERIT