In retrospect
Interpack 2023
PROCESSING & PACKAGING
Read more
Packaging solutions in a sustainable cycle
WERIT Kunststoffwerke was once again an exhibitor at this year's interpack (Düsseldorf, 04.-10.05.2023, Hall 10/D40) and presented new and proven product solutions for the focus areas of food, hazardous goods and reconditioning.
Learn everything about industry-specific
industrial packaging
New standards for hygiene and cleanliness
Food industry
Do you need suitable transport packaging for liquid, highly viscous or solid foods? WERIT will present you its matching solutions at interpack.
Liquids safely packaged
The proven NUTRiline aseptic with its flexible inner container (FlexBag) expands the WERIT IBC Food family as a sterile ready-to-fill packaging for high- and low-viscosity liquids.
New this year: The POLYex IBC is now available in a version for food. Find out more at interpack in Düsseldorf.
The perfect combination
The plastic pallets tailored to the food industry combined with WERIT reusable transport packaging are used when transport, storage and the internal workflow are to be ensured efficiently.
Safely packaged
Containers for hazardous goods
The WERIT BLUEline IBC ensures contamination-free removal and emptying of hazardous and sensitive filling media (including AdBlue) via the removal systems. Now also available in 300 L and 600 L sizes.
The hazardous goods container series is complemented by the UN-approved TOPline as well as the POLYex IBC with additional approval for EX zones 1 and 2.
For the sake of the environment
Sustainability
Reusable transport packaging for sustainable use
Reusable transport packaging made of plastic has a long service life and is fully recyclable - studies therefore regularly certify that it has a good CO2 balance. At interpack in Düsseldorf, WERIT will be exhibiting volume-reducible stack and nest containers, euronorm stacking boxes for food and non-food as well as stacking boxes with curved lips.
The IKP series - the environmentally friendly alternative
The WERIT product range IKP1208 and IKP1213 is the optimal, economical and environmentally friendly alternative to the wooden pallet. The recycled plastic makes the pallets extremely light, durable and resistant - this reduces energy consumption and CO2 emissions during production and transport.
Industry specific packaging solutions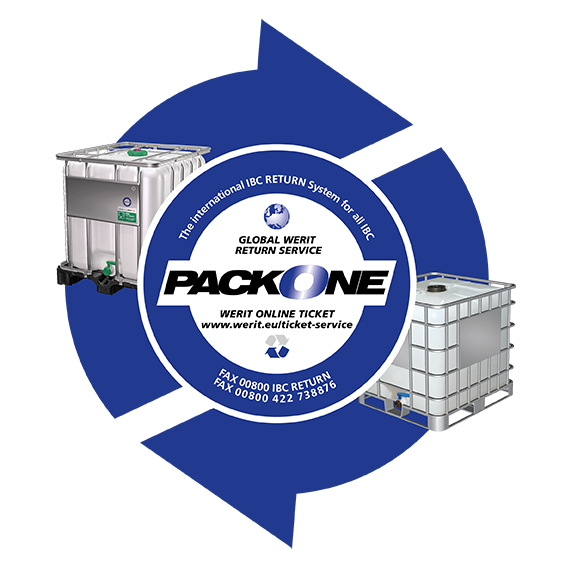 Reusable IBC conserve resources
Independent of the manufacturer and design, WERIT offers the collection of used Intermediate Bulk Containers (IBC) free of charge via the PACKONE system. Through the reprocessing of returned packaging materials, the IBCs of the RECOline series are an example for environmentally friendly packaging. After cleaning or replacement of the inner container or individual components, these IBCs are returned to the economic cycle. The function and operational capability of the reconditioned IBCs are almost equivalent to new products. With the different combined circulation systems Closed Loop or Open Loop, we can optimally address the customer-specific requirements in order to achieve a best-possible economic and ecological efficiency.